An express service dedicated to the sale of aeraulic products
For all fitters or aeraulic components, design offices, installers, professionals in all sectors... who install dust extraction and filtration systems and require standardised piping, filters, dans, ATEX-certified safety equipment, cyclones... that enable the filtration or suction of all types of dust (wood cereal, metal...).
All standard components are kept in stock and can be delivered within 48 hours!

We also offer equipment adapted to your specific needs, ATEX equipment, custom-made boiler parts, special dust extraction and ventilation systems. All of our components comply with the regulations.
Our team is available to advise you and offer you the best solutions within an unbeatable time frame (instant response).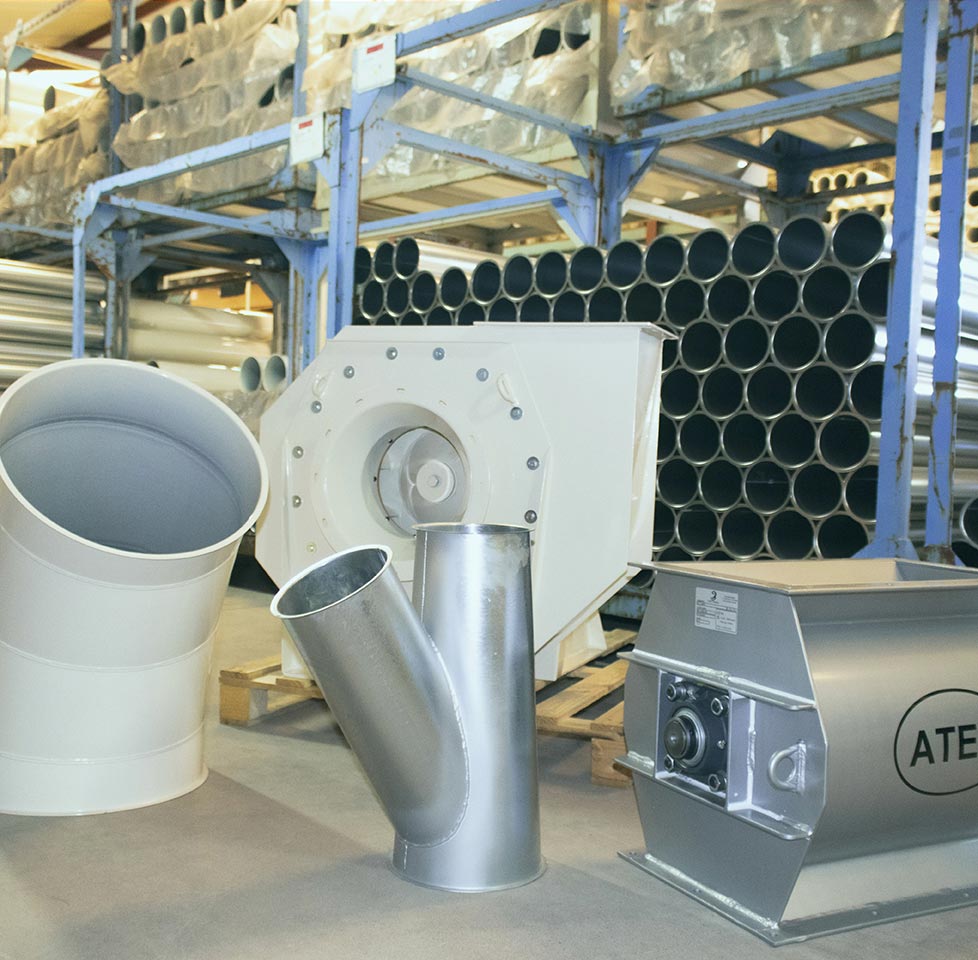 Our products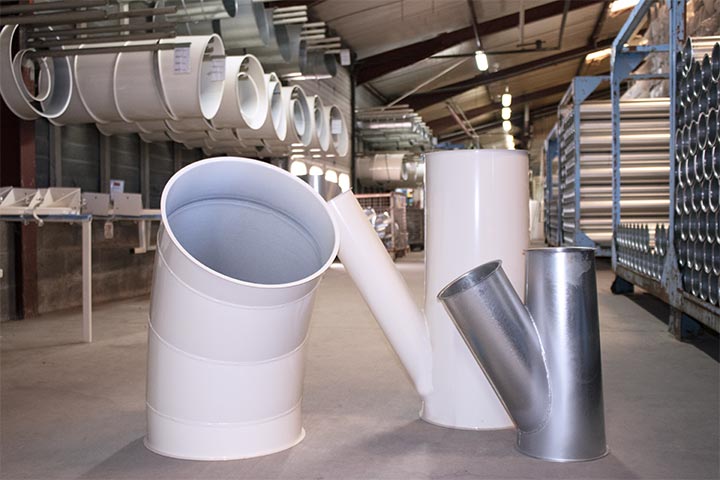 Standardised piping
Range dedicated to industrial dust extraction and pneumatic conveying systems.
Available from stock and delivery within 48 hours. 
Compliant with standards NF E29-960/961/962.
Ensures equipotential bonding, compliant with the ATEX Directive...

Automatic laser welding and robotic MIG welding of exceptional quality providing a perfect seal.

Two types of piping: 
Series A: galvanised sheet steel S235 with external coating of RAL 1013 thermosetting paint. Unpainted version available.
Series B: Sheet steel S235, 2 and 3 mm thick with same coating as series A.
We can also manufacture your boiler parts according to your plans.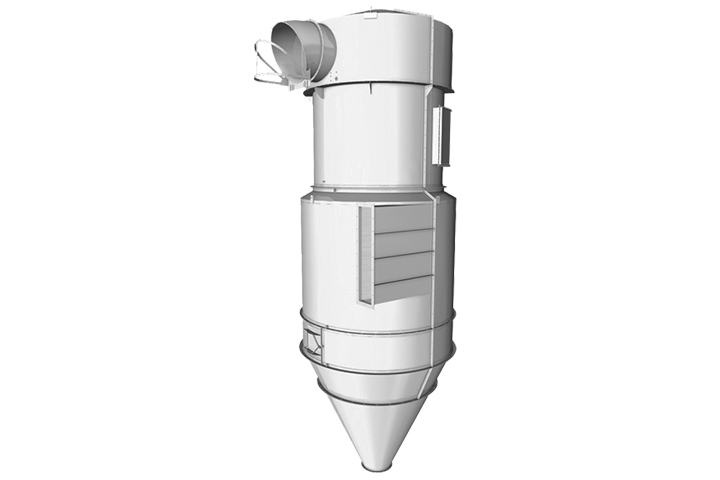 Cyclofilters
A range of filters for the purification of dust-laden air.
They can be used to prevent contamination in buildings or during a production process.
Cyclofilter Type 4Y (conical bottom)
Cyclofilter Type 4X (flat bottom)
Cyclomod (Plug and Play)
Cyclorizon (horizontal)
Cartridge filter (CNC)
Baghouse (CFPM)
Frame possible on request for Cyclofiltre type 4Y.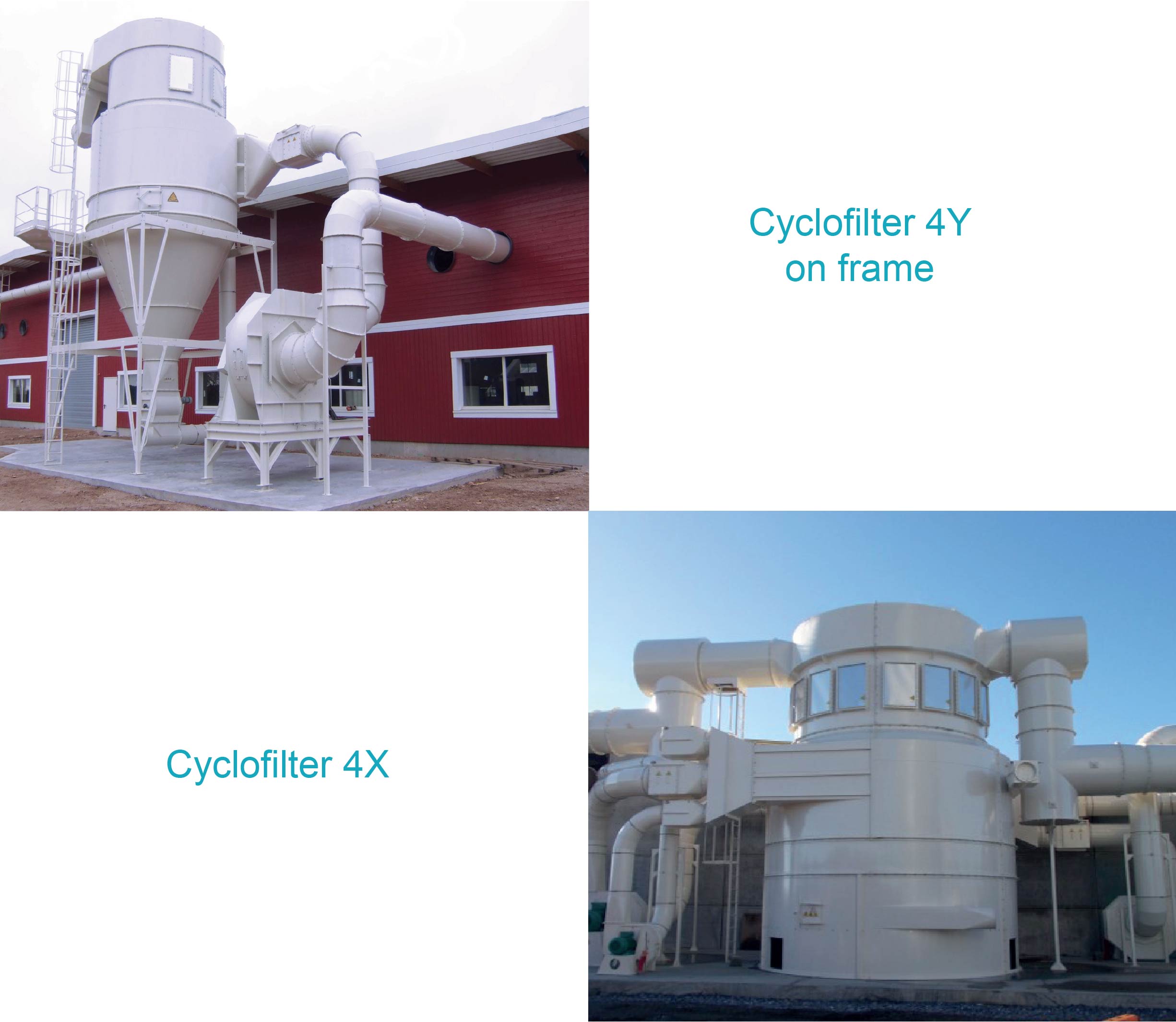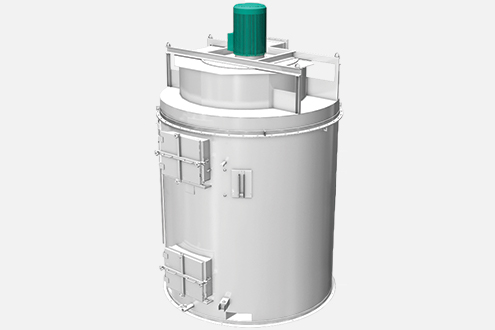 Our other Filters
MISTRAL oil mist filter
Cylindrical cartridge filter (Silosafe C)
Cartridge filter (CFFC)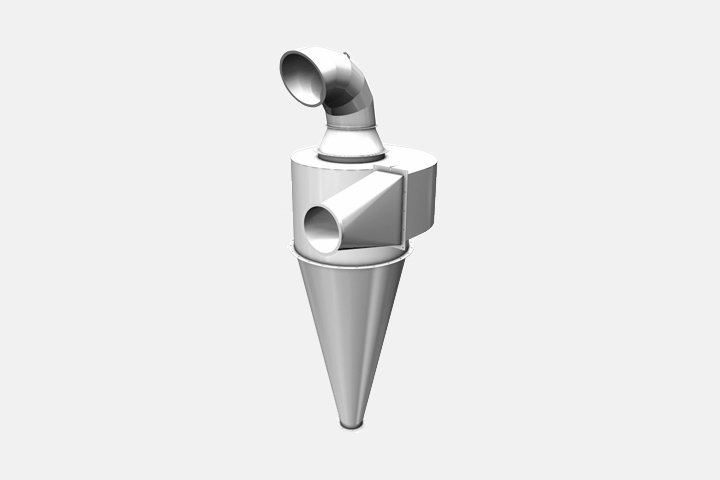 Cyclones
Separator that uses centrifugal force to purify air containing dust or wood shaving particles. Its performance depends on the rotational speed of the particles, their density and their particle size.
GC Cyclone
GCS Cyclone
HC Cyclone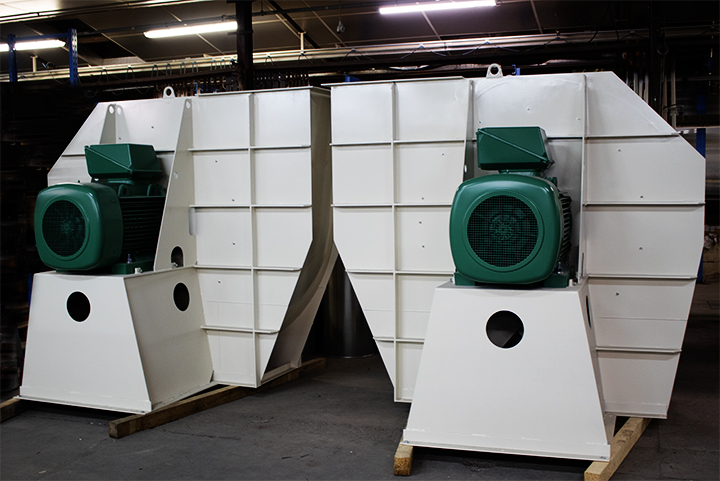 Fans
To ensure the depressurising or pressurising of dust extraction systems under very different conditions and in extreme climates.

Transport fans for transporting all types of non-fibrous particles, and especially dust, sawdust and wood shavings for activities involving wood, plastics, recyclable waste.

Advantages: 
Our fans achieve very high efficiency (> 80%)
Dynamic balancing of the turbine carried out in the factory
Wide range of air flow
Sturdy construction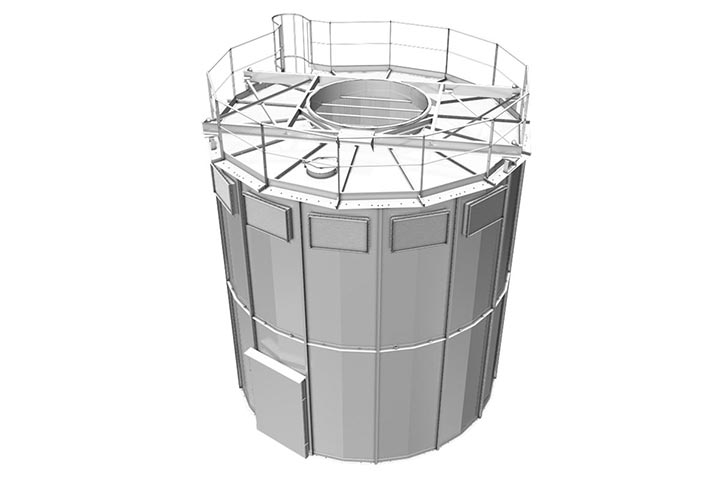 Silos
For storing powdered materials.

Fitted with explosion vents (ATEX), tested by INERIS (French National Institute for Study of Industrial Environments and Risks) to prevent the risk of explosion.

Fitted (or not) with extraction systems, access, level control, etc.

Galvanised sheet steel S235 with external coating of RAL 1013 thermosetting paint.
Capacity from 80 to 950m3.

Robust construction, self-supporting and removable, it can withstand large loads.

Easy to access thanks to a technical trap.

Possibility of installation on concrete slab or on metal structure.

Central feed for good material distribution.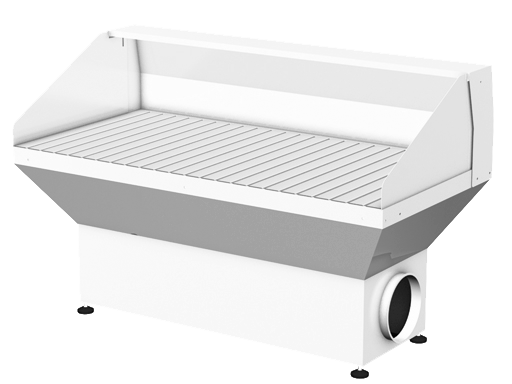 Suction table
Developed to improve air quality around work stations during sanding, deburring and smoothing operations (wood, polyester, etc.).

The tables are ergonomically designed so you can work standing up.

Ergonomics and cleanliness of the workstation.

Non-slip and interchangeable worktop.

Suction over the entire surface of the worktop.

Easy connection to a suction network.

Symmetrical table, allows a right or left connection to be defined on site.

No particular maintenance.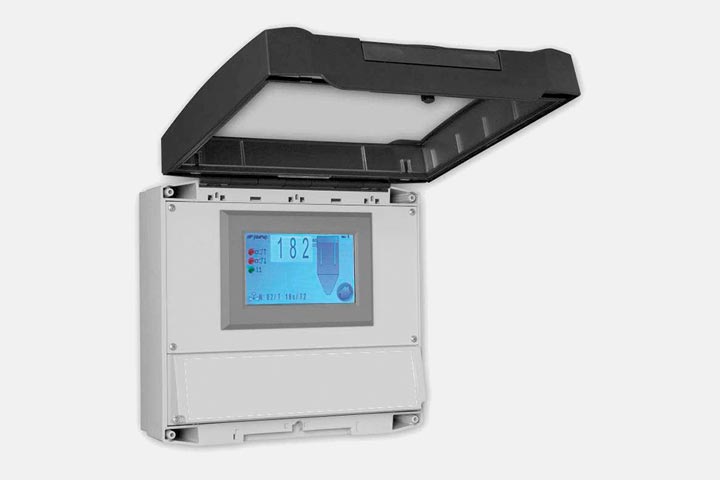 Control system
Electrical equipment
Rotary level detector ANR type
PSI2 pressure switch
PSI18T pressure switch
Unclogging sequencer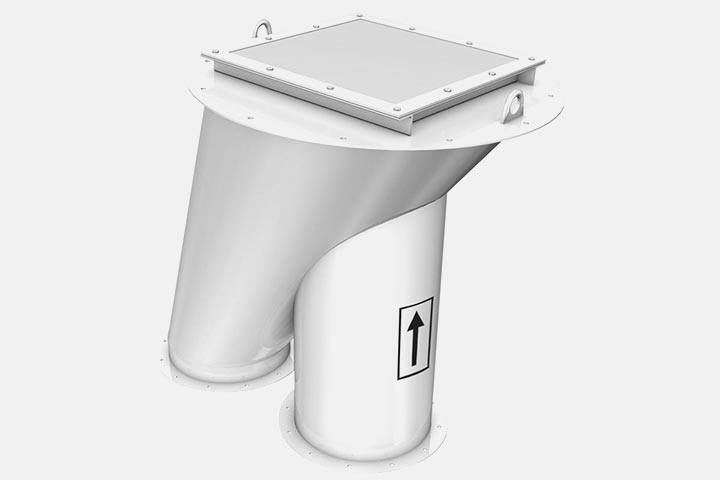 ATEX
All components meet the requirements of the ATEX Directive to ensure a safe environment in the event of an explosion.
Déviatex expansion flue
EAMRP9 air valve
Need a standard or custom-made part?
Contact us Monday to Friday from 08:00 to 12:00 and 13:30 to 17:00 on +33 (0)3 81 32 68 10 or by emailing vente@cattinair.com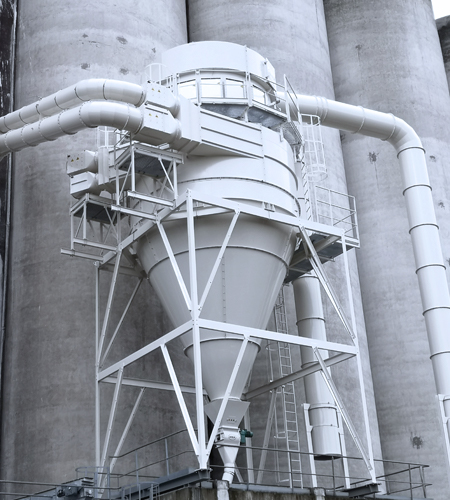 Why choose Cattinair aeraulic components?
A fast and responsive team
100% Made in France
Adherence to deadlines
Delivery in under 48 hours
Standard piping, the strongest on the market
Anti-corrosion, airtight and conductive
Compliant with ATEX requirements
Performance, efficiency and energy savings